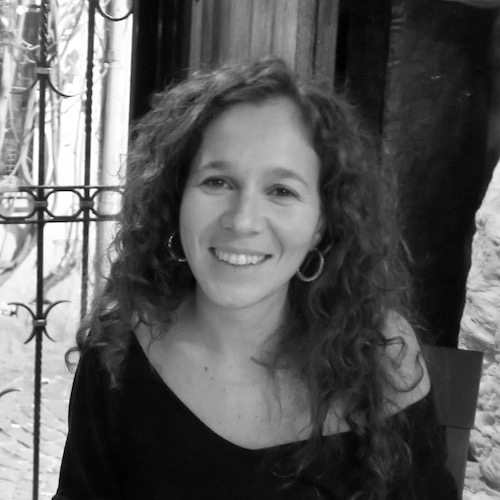 I am a Postdoctoral Scholar at Florida State University working in coastal systems and marine biodiversity in the
Dr. Rassweiller lab
. My research interest is to understand how environmental factors or other ecological state changes affect the processes and mechanisms of coastal systems at different levels, from individuals to communities, and at different spatial and temporal scales. Most of my work focuses on marine macrophytes and fish communities and my research is motivated by dual goals of advancing ecological knowledge and influencing management decisions. To this end, I take an integrative perspective in physiology and ecology combining observational and experimental approaches, and modelling tools. My current research is related to the field of
quantitative ecology
examining the environmental and ecological drivers of change in coastal communities and I work on improving methods for
monitoring marine biodiversity
. In my doctoral work at the Mediterranean Institute for Advanced Studies, I studied the effects that changes in environmental factors (e.g., eutrophication, warming and acidification) have on seagrass-herbivore interactions by examining a wide range of plant responses and at different plant life stages and how some of these changes influenced herbivore behavior. During my PhD I visited different research groups and institutions (Stazione Zoologica Anton Dohrn, Oregon State University and Universidad Nacional Autónoma de México) collaborating with international researchers and I try to extend this collaborative spirit everywhere I work. I enjoy sharing my research with the public and inspiring students. I have participated in outreach activities such as lab open doors and women in science events and judged regional science fairs. Also, I am a scientist you can Skype in the skype a scientist program. For more information see my
list of publications
and
C.V.
Last 3 published papers
[12] Hernán G., M.J. Ortega, J. Henderson, J. Alós, K. Boyer, S. Cimon, V. Combes, M. Cusson, C.M. Hereu, M. Hessing-Lewis, K. Hovel, P. Jorgensen, S. Kiriakopolos, N. Kollars, M.I. O ́Connor, J. Olsen, P.L. Reynolds, J. Ruesink, E. Voigt, F. Tomas (2020): Latitudinal variation in plant defence against herbivory in a marine foundation species does not follow a linear pattern: The importance of resource availability. Global Ecol Biogeogr. doi:https://doi.org/10.1111/geb.13217 Link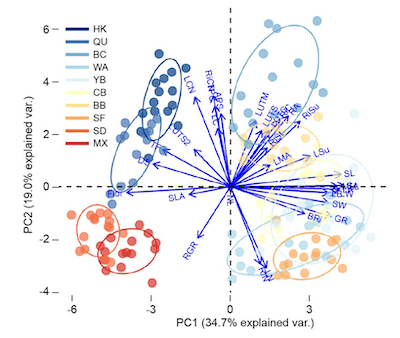 Abstract: Aim: Studies on latitudinal patterns in plant defence have traditionally overlooked the potential effect that resource availability may have in shaping plant defence. Likewise, latitudinal patterns of tolerance traits have rarely been studied, yet they can be a critical component of plant defence. Therefore, the aim of our study was to examine latitudinal variation in the production of tolerance and resistance traits against her- bivory along a latitudinal range and a natural gradient of resource availability from upwelling conditions. Location: Canada, North America and Mexico. Time period: Summer months of 2015. Major taxa used: The seagrass Zostera marina. Methods: We conducted experiments simulating macroherbivore (e.g., bird, fish) dam- age on the seagrass Z. marina at 10 sites across the Eastern Pacific coast (Canada– Mexico) and Quebec and analysed several traits related to resistance and tolerance strategies against herbivory. In addition, we examined the effects of potential sea- grass changes in defence strategies by performing a series of feeding experiments with mesoherbivores in a subset of sites. Results: We found that eelgrass resistance defences did not follow a linear latitudinal pattern but rather followed a bell-shaped curve which correlated with bottom-up control. In sites with higher nutrient availability, plants allocated resources to tol- erance strategies and had lower resistance traits. Furthermore, seagrasses did not respond linearly to increased herbivory pressure; while they tolerated moderate lev- els of herbivory, they underwent a significant reduction in tolerance and resistance under high herbivory levels, which also made them more susceptible to consumers in feeding experiments. Main conclusions: Our results highlight the importance that nutrient availability has in shaping latitudinal patterns of plant defence against herbivory and show how these defences may not respond linearly to increased herbivory pressure in seagrasses.
[11] Máñez-Crespo,J., Tuya, F., Fernández-Torquemada, Y., Royo, L., Pilar-Ruso, Y., Espino, F., Manet, P., Antich, L., Castejón,I., Curbelo, L., de la Ossa, J.A., Hernán, G., Mateo-Ramírez, A., Pereda-Briones, L., Procaccini, G., Terrados, J., Tomas, F. (2020). Seagrass Cymodocea nodosa across biogeographical regions and times: differences in meadow structure and sexual reproduction. Mar. Env. Res. 162 : 105159. https://doi.org/10.1016/j.marenvres.2020.105159 Link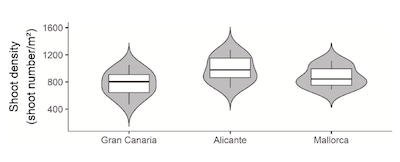 Abstract: Seagrasses are key habitat-forming species of coastal areas. While previous research has demonstrated considerable small-scale variation in seagrass abundance and structure, studies teasing apart local from large-scale variation are scarce. We determined how different biogeographic scenarios, under varying environmental and genetic variation, explained variation in the abundance and structure (morphology and biomass allocation), epiphytes and sexual reproduction intensity of the seagrass Cymodocea nodosa. Regional and local-scale variation, including their temporal variability, contributed to differentially explain variation in seagrass attributes. Structural, in particular morphological, attributes of the seagrass leaf canopy, most evidenced regional seasonal variation. Allocation to belowground tissues was, however, mainly driven by local-scale variation. High seed densities were observed in meadows of large genetic diversity, indicative of sexual success, which likely resulted from the different evolutionary histories undergone by the seagrass at each region. Our results highlight that phenotypic plasticity to local and regional environments need to be considered to better manage and preserve seagrass meadows.
[10] Lester, S.E., Dubel, A., Hernán, G., McHenry, J. and Rassweiler A., (2020): Spatial planning principles for marine ecosystem restoration. Accepted in Frontiers in Marine Science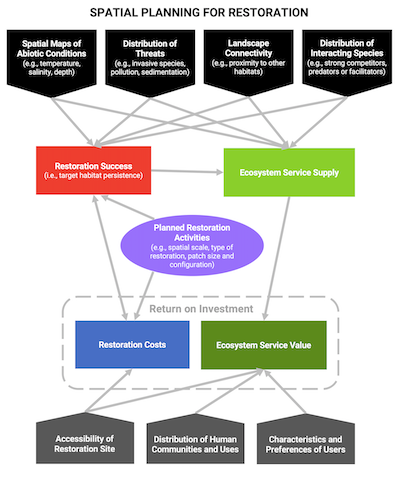 Abstract: Coastal and marine ecosystems characterized by foundation species, such as seagrass beds, coral reefs, salt marshes, oyster reefs, and mangrove forests, are rich in biodiversity and support a range of ecosystem services including coastal protection, food provisioning, water filtration, carbon sequestration, recreational opportunities, cultural value, among others. These ecosystems have experienced degradation and a net loss of total area in regions around the world due to a host of anthropogenic stressors, resulting in declines in the associated ecosystem services they provide. Because of the extensive degradation in many locations, increasing attention has turned to ecosystem restoration of these marine habitats. Restoration techniques for marine and coastal ecosystems are generally more expensive when compared to terrestrial ecosystems, highlighting the importance of carefully selecting locations that will provide the largest return on investment, not only for the probability and magnitude of restoration success, but also for ecosystem service outcomes. However, site selection and spatial planning for marine ecosystem restoration receive relatively little attention in the scientific literature, suggesting a need to better study how spatial planning tools could be incorporated into restoration practice. To the degree that site selection has been formally evaluated in the literature, the criteria have tended to focus more on environmental conditions beneficial for the restored habitat, and less on ecosystem service outcomes once the habitat is restored, which may vary considerably from site to site, or with more complex landscape dynamics and spatial patterns of connectivity. Here we 1) review recent (2015-2019) scientific peer-reviewed literature for several marine ecosystems (seagrass beds, salt marshes, and mangrove forests) to investigate how commonly site selection or spatial planning principles are applied or investigated in scholarly research about marine ecosystem restoration at different spatial scales, 2) provide a conceptual overview of the rationale for applying spatial planning principles to marine ecosystem restoration, and 3) highlight promising analytical approaches from the marine spatial planning and conservation planning literatures that could help improve restoration outcomes. We argue that strategic site selection and spatial planning for marine ecosystem restoration, particularly applied at larger spatial scales and accounting for ecosystem service outcomes, can help support more effective restoration.
---